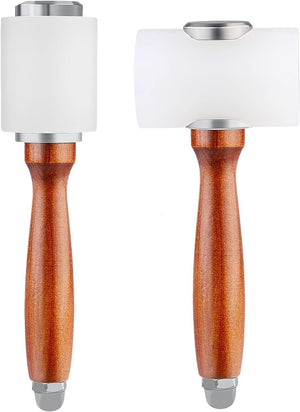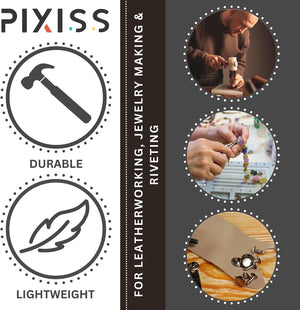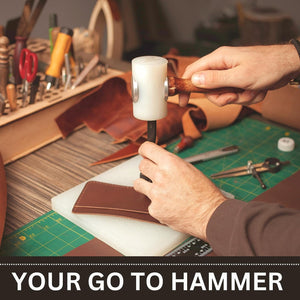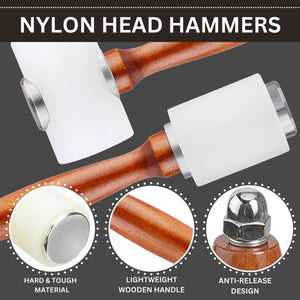 The included Nylon Hammer completes Pixiss' collection of leather working tools and supplies. A versatile and indispensable tool, it provides precise strikes without inadvertently damaging your leather or embellishments. Crafted with meticulous attention to detail, its nylon head ensures efficient impact while preserving the integrity of your projects. Shape and form metal without unintended deformation, stamp designs and rivets onto leather, and complete your crafting arsenal. Experience the perfect balance of power and control as you create professional-grade leather goods. Crafted for durability and longevity, these tools are built to withstand the rigors of leatherworking. The Nylon Hammer features a sturdy handle for a comfortable grip, minimizing hand fatigue during extended use. The nylon head absorbs rebound forces while avoiding leaving scratches and imperfections on your crafting mediums. Where a small rubber mallet may cause your metal embellishments to flatten, this leather tooling mallet shapes delicate pieces to match the contour of your leather. With tools this robust, you can discover the limitless possibilities of leatherworking. From creating personalized belts and accessories to intricate stitching and leather crafts, our leather craft kits empower you to bring your creative visions to life. Whether you're a DIY Hobbyist or Seasoned Pro, our art bundles are designed to meet your every need. So invest in the best! Set yourself up for excellence and embark on your craft adventure.
Leather Crafting Tools - Our mallet hammer makes an excellent addition to any leather stitching kit. Soften your craft medium or spread coloration with light strikes.
Powerfully Versatile Hammer - Precise strikes without damaging leather. Ideal with leather tools for leather working, but serves well as a jewelry hammer.
Nylon Leather Mallet - Add some precision to your leathercraft supplies. Shape, and stamp designs or buttons with ease! The non-metal head helps prevent unintended damage to your hardware.
Durable and Lightweight - The wood mallet with nylon head ensures efficient impact and reduces hand fatigue. Ideal for delicate and/or detailed work.
Wide Range of Applications - Suitable for leatherworking, riveting, jewelry making, and other DIY-able projects. Your go-to hammer for various tasks.