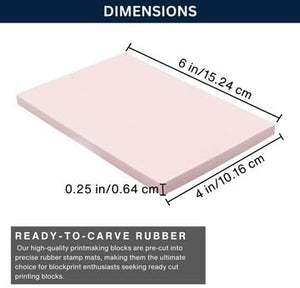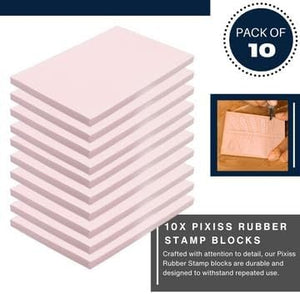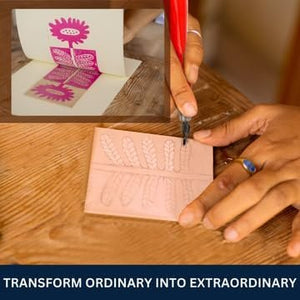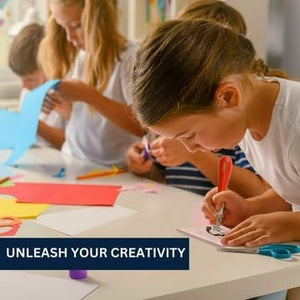 Replenish your Stamp Making Kit with our set of 10 Rubber Stamp Pads, designed for a stamp maker of any age. Our versatile block printing rubber is an ideal blockprint medium for those in need of a softer material. Whether you're a seasoned artist or a young creative, our stamp pads will elevate your crafting to new heights.
Experience the joy of crafting with our ready cut printing blocks. Each stamp block is pre-cut to 6 inches by 4 inches and ready for use as print making materials. Our rubber blocks guarantee durability and consistent results.
Each rubber carving block is soft and malleable, making them great for beginners or enthusiasts in need of a smoother carving experience. Our rubber blanks also take to ink well, ensuring clear and vibrant impressions from the first inking. Explore a wide range of creative techniques with confidence.
Make your own rubber stamp for a staple in your scrapbooking supplies. They add unique patterns, textures, and designs to scrapbook pages, helping to decorate and enhance memories in a creative way.
With our 10 pack stamp block kit, add a personal touch to wedding invitations, place cards, and other event stationery. They allow for customization and coordination of designs with the event theme. When making handmade greeting cards or invitations, our rubber stamp carving blocks come in handy for creating personalized touches and decorative elements to the cards.
Rubber block stamp carving is a popular educational art activity. Whether for art projects or educational play, our stamps for kids are a versatile tool that introduces young learners to the joy of self-expression and crafting. They are great for making imprints, decorating projects, and engaging in creative play.
Look no further for a block print rubber for stamps bundle that focuses on the essentials. Embark on a block print carving journey and design custom stamps. Make your mark and let your artistry shine!
Crafting Refill Pack - Stay well-stocked and ready to create with our bundle of 10 Rubber Blocks (Stamp Pad Blanks), ensuring you have an abundant supply for all your crafting projects.
Ready-to-Carve Rubber - Our high-quality printmaking blocks are pre-cut into precise rubber stamp mats, making them the ultimate choice for blockprint enthusiasts seeking ready cut printing blocks.
Speedy Cut Carving - A rubber block is suggested for artists looking for a less demanding stamp carving medium than conventional linoleum blocks for printmaking.
Easy to Carve & Shape - Our rubber for carving stamps are soft and easy to carve, allowing you to bring your unique linocut block designs to life with ease.
Endless Possibilities - Create a personalized stamp for use in: card making, scrapbooking, and stationary for weddings or other events.
Rubber Ready for Blockprint - Experience the ease of creating professional-quality prints with our ready cut printing blocks, designed to save you valuable time and effort.
Artistic Education - Each rubber stamping block can be used for fun art activities with kids. They are great for making imprints, decorating projects, and engaging in creative play.