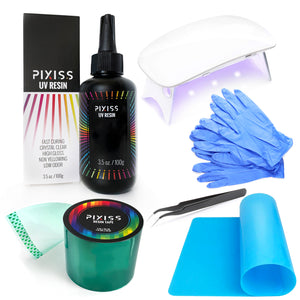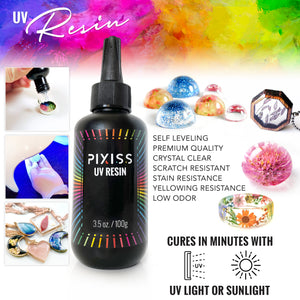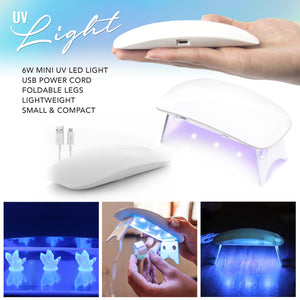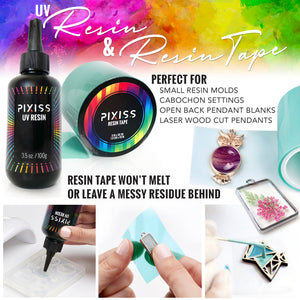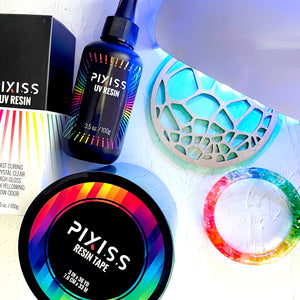 PIXISS UV Resin is high-quality, self-leveling, and has self-degassing properties allowing for a smooth crystal clear glassy finish once cured. Our UV Resin hardly generates any bubbles and cures, resulting in a smooth crystal-like surface. No need to measure or mix like traditional A/B resin. Our UV clear resin is ready to use and can cure hard in minutes with UV light or sunlight. PIXISS UV resin can be used for jewelry making, crafts decorations, casting and coating, cast figurines, and resin paintings. Tint our UV Resin by adding mica powder, glitter, and other colorants. 
PIXISS Mini UV Light is ready to use and can cure UV resin hard within minutes. Press the ON/OFF button once for curing 45 seconds, long-press 1-2 seconds for 60 seconds. PIXISS Mini UV LED Light can be connected to a computer, power bank, and mobile phone charger. PIXISS Mini UV Light is closer to white light, with no harm to your eyes and skin, making it a safe choice for curing UV resin.
PIXISS Resin Tape - Our traceless epoxy resin tape is made of PET film, self-adhesive with moderate viscosity, easy to stick on or remove from surfaces. It is made from a durable, heat-resistant PET material that is emerald in color.
This Kit Contains:
PIXISS 3.5oz. UV Resin

6W, Mini UV light with foldable legs and micro USB power cord.

PIXISS Resin Tape - 3" wide and 108 feet long.

BONUS Accessories Kit - 15"x11" silicone mat, 3 pairs of gloves and needles nose tweezers.