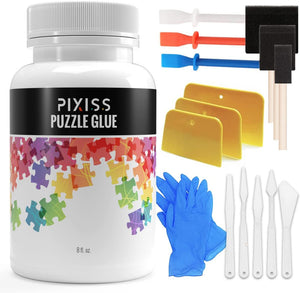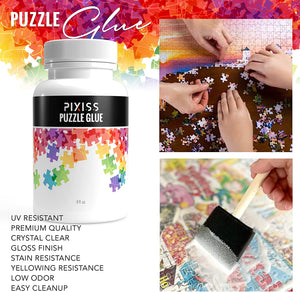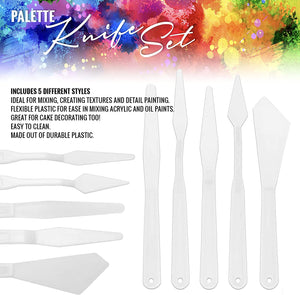 Puzzle Saver - 8oz bottle. Waterbase sealer, glue and finish.

Puzzle Glue - Puzzle Saver preserves your puzzles permanently.

Puzzle Saver Accessory Kit - The Pixiss puzzle saver accessory kit includes 3 pairs of gloves, a 4 inch rubber brayer, 3 foam brushes (1 inch, 2 inch, 3 inch), 5 plastic spreader tools and 3 plastic spreaders (5 inch, 4 inch, 3 inch).

Puzzle Conserver Brayer - Pixiss 4" rubber brayer to use with glue and save your masterpieces.

This all-in-one decoupage glue, sealer and finish is a must-have for puzzle lovers. Quick drying for multiple coat buildup, it preserves puzzles forever, perfect for mounting, framing and other décor uses. This unique sealer, glue and finish cleans up easily with soap and water and dries clear to showcase your finished puzzles.