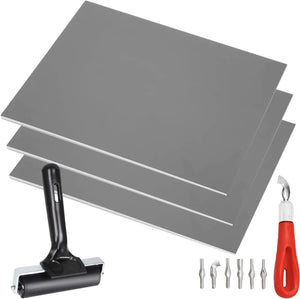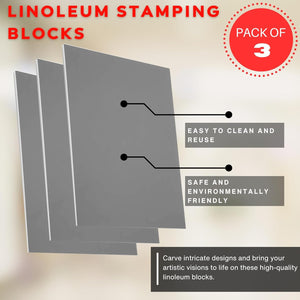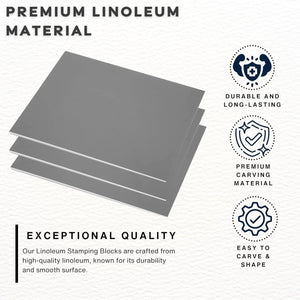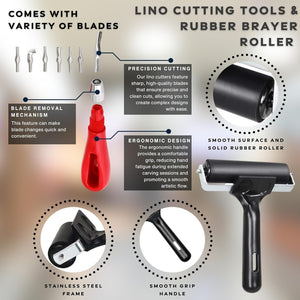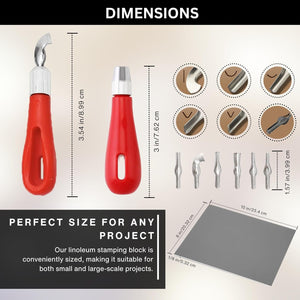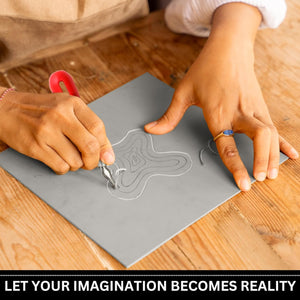 Carve intricate details and crisp impressions with confidence!
Our Linoleum block provides the perfect canvas for your rubber stamp creations. These durable blocks offer exceptional reliability and allow for precise carving. The complete stamp kit comes with a 3, 6, or 12 pack linocut block. Linoleum is an ideal printing rubber for print making materials as it is durable enough to preserve finer details while being easily cut or carved. Resilient to bending and less prone to split. Used, stiff linoleum can be heated for reuse.
The Lino Cutter set is a must-have tool for every printmaker. This set offers linoleum carving tools, including an ergonomic handle, a set of blades and brayer rollers for printmaking. Effortlessly carve intricate patterns and textures with our Stamp Carving Tool. The ergonomic handle ensures control with a comfortable grip for a smooth carving experience. Our premium brayer is a perfect ink roller for your carved stamps or tiles and is equipped with high-quality rubber rollers that ensure even distribution. Its durable construction and comfortable handle make it an essential tool in your linocut kit. Hobbyists of all disciplines use our brayer rollers for crafting in various applications as a: laminate roller, vinyl roller, glue roller, etc.
Whether you're into linocut or rubber block stamp carving, this stamp carving kit provides the essential tools and materials you need. Discover the joy of printmaking and unlock endless creative possibilities. From stamp pad and stamp block to rubber stamp making kit and linoleum carving tools, we've got you covered.
This bundle is ideal for artists, crafters, teachers, and anyone passionate about printmaking. Create personal stationary, handmade cards, and more! Unleash your creativity, express yourself, and leave a lasting impression.
Invest in this Stamp Maker Bundle and elevate your artistic journey.
Versatile Crafting Tool - Create intricate designs with precision using our superb rubber stamp carving tools and brayer. Perfect for printmaking, vinyl application, decoupage, mixed media art, etc.
Optimal Ink Distribution - The sturdy j roller brayer evenly distributes ink, paint, glue, and more providing consistent, bubble-free coverage and enhancing the quality of your artistic creations.
Smooth Carving Experience - Soft linoleum blocks ensure effortless carving and clean, crisp prints. Get started with our user-friendly stamp carving kit and unleash your creativity.
Durable and Reliable - Our linoleum rubber stamps and linocut rubber stamp kit carving tools are built to last, ensuring long-lasting creativity.
Soft Linoleum Block Printing Bundle - Create stunning prints with ease using our premium linocut blocks, precise carving tool with linoleum knife blades and versatile brayer.