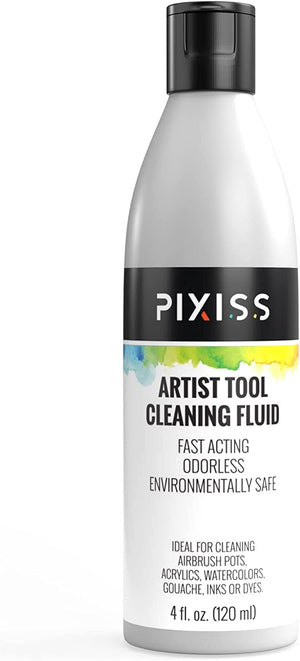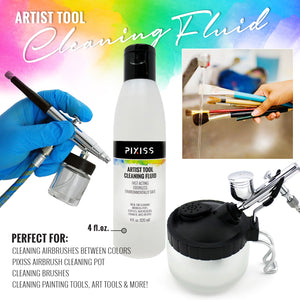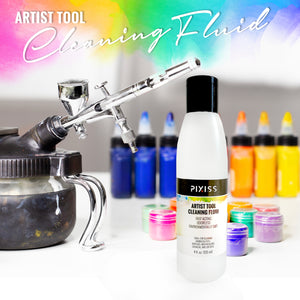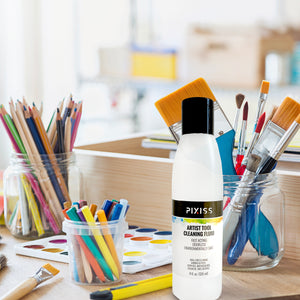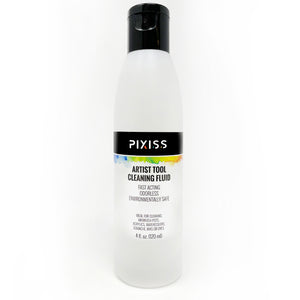 Pixiss brush cleaner for acrylic painting. Works as a brush preserver and restorer. A highly effective cleaning solution for restoring brushes with dried-on acrylic, oil, gouache, inks, and water-based paints. The perfect acrylic paint remover for your brushes.

Use Pixiss acrylic paint brush cleaner to keep all your art supplies clean, long-lasting, and ready for use. You will no longer be tossing out brushes with dried-on paint, as you can quickly restore them so you can reuse them repeatedly.
Directions for Use: Soak brushes as necessary and remove softened residue with a wipe, knife, or toothbrush. Cleans paint off brushes within minutes to hours for dried acrylic, oil, and water-based paint. For brushes loaded with fully dried acrylic and oil paint, soak for up to 24 hours. After cleaning brushes, wash them with mild soap and water. Reshape bristles so the brushes are ready for use.
For airbrush cleaning use, fill airbrush cup with cleaner and spray cleaner between color changes and immediately after each use. For dried paint in the airbrush, soak affected airbrush parts in cleaner overnight if necessary. Do not soak the whole airbrush in cleaner.