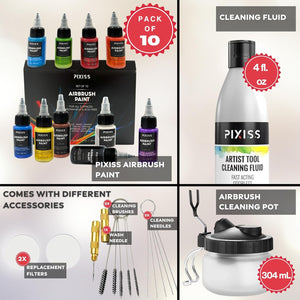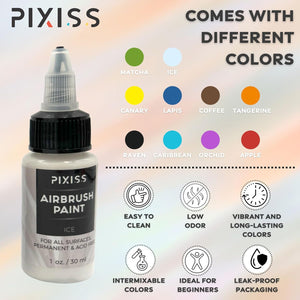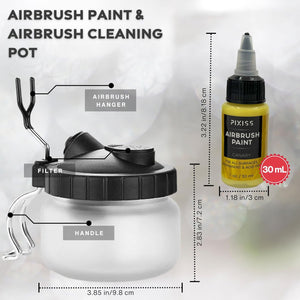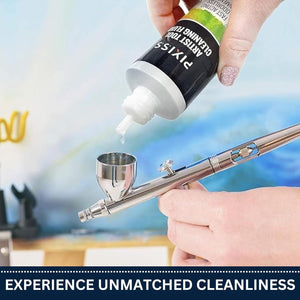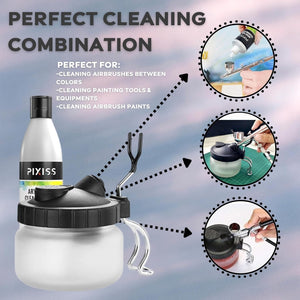 Elevate your airbrush set to new heights with Pixiss Airbrush Paint Kit. Our 1 ounce bottles of 10 vibrant colors are selected to provide a wide color spectrum. With Caribbean, Lapis, Apple, Canary, Matcha, Coffee, Ice, Orchid, Tangerine, and Raven airbrush colors you can bring your creative vision to life with stunning vibrance and acid-free brilliance.
Pixiss Airbrush Paint is designed to be your ultimate ready-to-spray solution. Enjoy a water-based formula that not only guarantees easy clean-up but also catalyzes creative potential. Feel the smooth flow of colors on various surfaces, from nails, fabrics, and canvas to plastic model kits, you can effortlessly create stunning artwork on any air brush medium. Whether you're a seasoned artist or a beginner, our easy-to-use acrylic paint kit is here for you.
Artists enjoy these paints for use in an airbrush fabric paint set or model airbrush kit. Our set includes all you need for smooth, consistent strokes - no mess, no fuss, just pure artistic joy.
Enhance your Air Brush Painting Set with the Pixiss Cleaning Fluid, Airbrush Pot. Our Airbrush Cleaning Pot is a multifunctional paint brush cleaner rinse cup designed to securely hold, soak, and clean your airbrush or paint brushes that keeps your work area clean and ready for painting. Included are 6 cleaning needles, 5 cleaning brushes, and 2 replaceable filters.
Use with Pixiss' Artist Tool Cleaning Fluid for an ideal airbrush cleaning solution. Works with oil, acrylic, or water-based paint and ensures your airbrush supplies stay in top-notch condition, removing paint residues effortlessly.
Let Pixiss be your artistic companion and elevate your airbrush painting supplies with thoughtful bundle designed to provide a seamless airbrushing experience.
Pixiss Air Brush Paint - Create permanent masterpieces with this acid-free, water-based acrylic paint. Comes with eight vibrant colors to kickstart your art! Great in airbrushing, model painting, etc
Water-Based Acrylic Paint Airbrush - Water-based acrylic airbrush paint. Enjoy our smooth airbrush painting paint set.
Versatile, Reliable - The airbrush acrylic paint is for all surfaces. From airbrush paint for nails to a model car paint kit, Pixiss Paints are a perfect companion in any air brush kit.
Kaleidoscope of Colors - Easy-to-use acrylic paint kit for any artist. Explore Caribbean, Lapis, Apple, and more vibrant colors for stunning artwork.
Needle Tip Bottles - Closeable Needle-Tip bottles of the Pixiss 1oz airbrush paints are designed to be closeable to aid in reducing unwanted leaks and messes.
Airbrush Cleaning Kit - Includes 5 cleaning needles, 5 cleaning brushes, 1 wash needle, and 2 extra filters, ensuring thorough and convenient cleaning. Fits most airbrush models and brands.
Artist Tool Cleaning Fluid - Pixiss provides a powerful paint brush cleaner and preserver that easily removes paint residues and maintains your airbrush equipment.