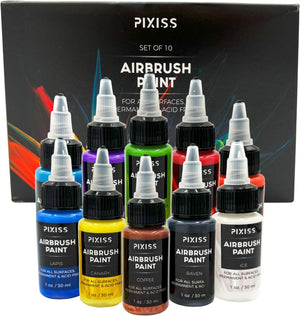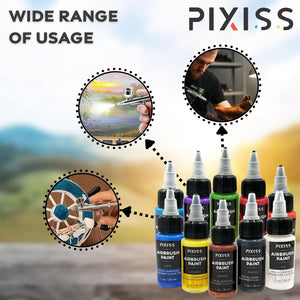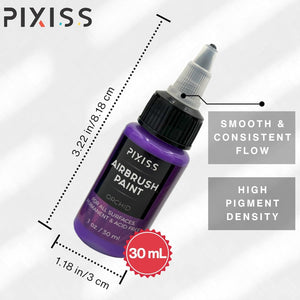 Elevate your airbrush set to new heights with Pixiss Airbrush Paint Kit. Our 1 ounce bottles of 10 vibrant colors are selected to provide a wide color spectrum. With Caribbean, Lapis, Apple, Canary, Matcha, Coffee, Ice, Orchid, Tangerine, and Raven airbrush colors you can bring your creative vision to life with stunning vibrance and acid-free brilliance. Pixiss Airbrush Paint is designed to be your ultimate ready-to-spray solution. Enjoy a water-based formula that not only guarantees easy clean-up but also catalyzes creative potential. Feel the smooth flow of colors on various surfaces, from nails, fabrics, and canvas to plastic model kits, you can effortlessly create stunning artwork on any air brush medium. Whether you're a seasoned artist or just starting, our easy-to-use acrylic paint kit is your creative playground. Pixiss Paints optimizes the painting experience with a user-friendly design. Say hello to the perfect consistency and quality paint that will bring your imagination to life. The leak-proof packaging ensures mess-free delivery, keeping your artistic space organized and efficient. Explore the array of colors and shades for your specific needs and unleash your creativity like never before. Artists enjoy these paints for use in an airbrush fabric paint set or model airbrush kit. Our set includes all you need for smooth, consistent strokes - no mess, no fuss, just pure artistic joy. Join the ranks of satisfied artists who have embraced Pixiss art products. Ideal for model painting, crafts, nail art, and much more. With these 10 colors of airbrush ready paint by Pixiss, you'll only be limited by your imagination. Let Pixiss be your artistic companion and your creative journey can start here.
Pixiss Air Brush Paint - Create permanent masterpieces with this acid-free, water-based acrylic paint. Comes with eight vibrant colors to kickstart your art!
Water-Based Acrylic Paint Airbrush - Water-based acrylic paint. No clogging, no hassle. Enjoy our smooth airbrush painting paint set.
Versatile, Reliable - The airbrush acrylic paint is for all surfaces. From airbrush paint for nails to a model car paint kit, Pixiss Paints are a perfect companion in any air brush kit.
Kaleidoscope of Colors - Easy-to-use acrylic paint kit for any artist. Explore Caribbean, Lapis, Apple, and more vibrant colors for stunning artwork.
Leak-Proof Packaging - Closeable Needle-Tip bottles of the Pixiss 1oz airbrush paints are designed to be closeable to aid in reducing unwanted leaks and messes.