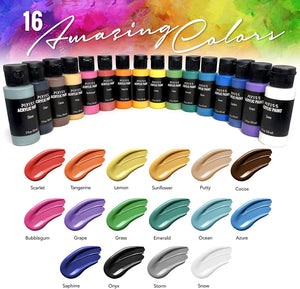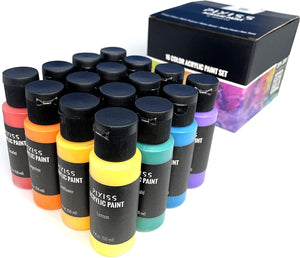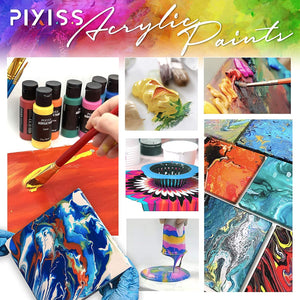 Pixiss Acrylic paints offer 16 unique colors. Non-Toxic, Water Based and can be used for many different applications. Each bottle is 59ml/2 fl.oz. Colors include; Scarlet, Tangerine, Sunflower, Lemon, Grass, Emerald, Ocean, Azure, Bubblegum, Grape, Sapphire, Cocoa, Putty, Snow, Storm and Onyx.
Exciting Selection of Artist-Quality Colors: With colors as dark as onyx or as vibrant as Ocean your art is sure to pop!
Rich Lasting Beautiful Colors: Our premium acrylic paints are made specially to last, with rich and vivid pigmentation, not only will your art look amazing with true shades of color, but it will maintain that high quality look.
Non-Toxic & Safe: Perfect for kids, teens, and even adults. Our paint is completely safe, so you don't have to worry about the family when using them! Made specially for your safe enjoyment!
Easy Storage: Our paints come in a sturdy, cardboard box with a tucked in lid providing the perfect storage option at no additional cost!
100% Refund Guarantee: If you're not satisfied with your paints, feel free to return them to us hassle free for a full refund or a product replacement!