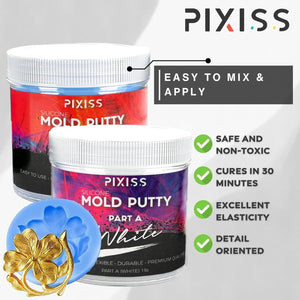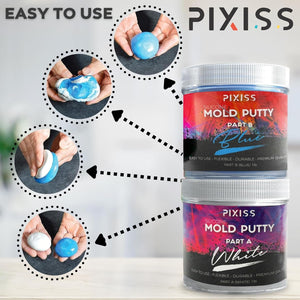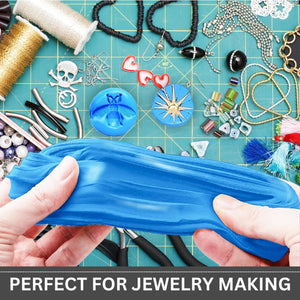 Unleash your creativity with 2 pounds of PIXISS Silicone Mold Putty. Our super easy 1:1 mix mold putty empowers both beginners and professionals to create custom molds effortlessly. With 1 pound each of A and B mold putty, you'll have plenty to bring your artistic visions to life. Say goodbye to complicated measurements and calculations. Our mold putty comes in a simple 1:1 mix ratio of A (White) and B (Blue). Just combine equal parts and mix by hand until uniform in color - it's that easy! Enjoy a comfortable 3-minute work time to shape your molds precisely. After a brief wait of 20-30 minutes (25°C / 77°F), you can easily demold your masterpieces. Perfect for beginners and seasoned creators alike. Thanks to the hand mixable 1:1 ratio formulation, there is no need for mixing containers, mold boxes, or degassing equipment. PIXISS Mold Putty eliminates the hassle and streamlines the mold making process. It's quick, convenient, and saves you time for more creative endeavors. Create molds that stand the test of time. Our mold putty yields strong, flexible, and reusable molds, ensuring your projects retain their shape and quality even after multiple uses. Whether you're looking to create a resin mold for jewelry, a candle mold, cosplay adornments, or a DIY soap mold - PIXISS Mold Putty is your go-to choice. Explore various crafts with confidence and precision. With our product, you are freed of time-constraints, extra and unnecessary equipment and concern for the finer details. Say hello to stress-free mold making and let your imagination run wild with PIXISS Silicone Mold Putty DIY Kit. Experience the joy of bringing your artistic visions to life with ease. Take the leap into the world of effortless mold making with this Make-Your-Own Silicone Mold Kit. Your artistic journey awaits!
2 lbs of A + B Mix - Get a generous amount of our Pixiss Mold Putty with 1 lb each of A (White) and B (Blue). Easily mix with a 1:1 ratio until the putty is uniform in color for simple mold making.
Reusable and Efficient - With a 3-minute work time and the 20-30 minute demold time (at 25°C / 77°F), you can comfortably create your silicone molds without feeling rushed or constrained.
Set for Success - This moldable silicone putty is formulated to be hand mixable and easy to work with, removing the need for degassing equipment, mixing containers or mold boxes.
Capture Intricate Details - Pixiss Mold Putty empowers you to achieve professional precision with fine details in your resin molds for jewelry making or other crafts such as model making.
Crafting Made Easy - Pixiss' silicone mold putty kit is easy to mix, form, and reset. So create custom candle molds with confidence or craft your own soap mold!