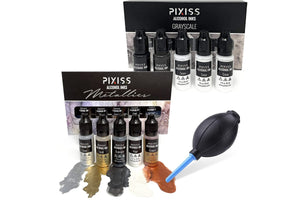 Extreme Shimmer Metallic Alcohol Ink: Our metallic inks have an intense shimmer and look like real metal when dried. Pixiss metallic alcohol inks are vibrant and add the perfect metallic shimmer to any project! 
Grayscale Alcohol Ink Set: These inks provide an excellent grayscale option to your collection. 
Alcohol Ink Blower: This convenient handheld tool is excellent for manipulating alcohol ink movement with air giving you more control over your project and allowing unique designs on alcohol ink paper or non-porous surfaces.
This Kit Contains:
PIXISS Metallic Shimmer Alcohol Ink Set: Gold, Copper, Bronze, Gunmetal & Pearl

PIXISS Alcohol Ink Grayscale Set: Snow (3), Ash, Onyx

PIXISS Ink Blower