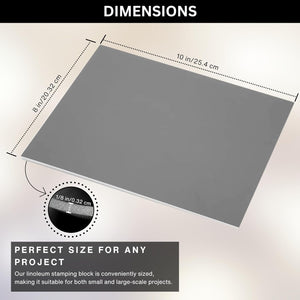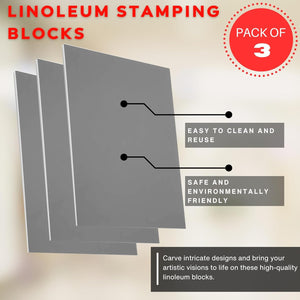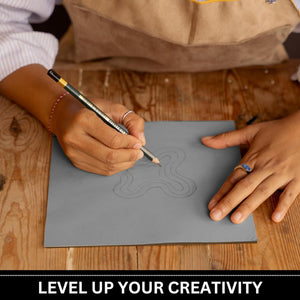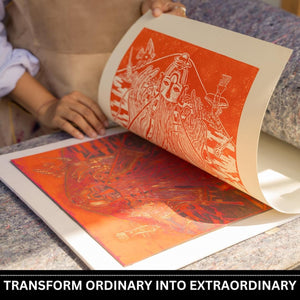 Crafted with precision and designed for optimal performance, our linocut blocks are here to revolutionize your creative process. Available in convenient packs of 3, 6, and 12, these blocks offer endless possibilities for artists, crafters, and printmakers alike. Constructed for quality, our linoleum stamps provide the ideal surface for carving intricate designs and the durability for transferring them onto various materials with ease. The linoleum in our stamp blocks has no directional grain and doesn't tend to split - it is easier to obtain certain artistic effects with lino than with most woods. The smooth and durable texture of these blocks ensures excellent ink transfer, resulting in crisp and detailed impressions every time. Whether you're a seasoned artist or a beginner, our rubber carving block will elevate your projects to new heights. The stamp pads are compatible with a wide range of stamping inks, allowing you to explore various color palettes and create stunning prints. Whether you're designing cards, scrapbooking, or adding personalized touches to your crafts, our stamp carving blocks provide the perfect canvas for your imagination. They are durable enough to be used with a stamp press or block printing press. The smooth and resilient surface of these blocks enables precise carving and effortless ink application, ensuring professional-quality results every time. Whether you're a hobbyist or a professional stamp maker, this kit provides everything you need to unleash your creativity. See our other listings to complete your stamp carving kit with our linoleum carving tools, and linocut brayer to embark on an artistic journey like no other. Create personalized stamps, explore printmaking techniques, and make your mark with confidence. Add to your cart today and make your mark with our premium linocut block set!
3 Pack Linocut Kit - Plenty of material to practice rubber block stamp carving. Carve intricate details and create countless personalized linocut stamp pad.
Crafters' Must-Have - Essential for block printing, card making, and DIY projects. Elevate your creativity with our premium rubber stamp blocks. Perfect for stamping, printmaking, and more!
Experience the Joy of Stamp Making - Our rubber stamp kit is beginner-friendly and provides endless artistic possibilities. Start your stamping journey today!
Precision Carving Made Easy - Carve complex characteristics comfortably with our quality linoleum stamp blocks. The smooth carving medium allows for seamless stamping. Say goodbye to messy results.
Durable & Long-Lasting - Our sturdy rubber blocks ensure years of use. To reuse stiffer linoleum, simply apply heat. Bend, carve, stamp, and create your content with confidence.