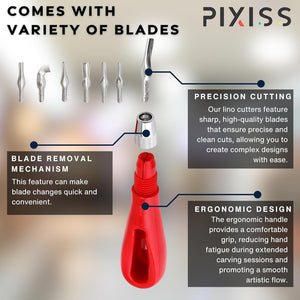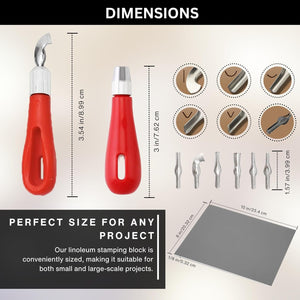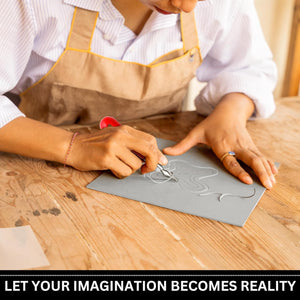 This bundle is perfect for artists of all skill levels looking to try a new craft or bolster their printmaking experience. Pixiss' stamp making kit is designed for the artist seeking utmost precision and craftsmanship. Each component is designed to provide you with the tools you need to express your vision. Our Lino Stamp Pad are crafted from premium materials to deliver exceptional performance. Each linocut block is smooth, durable, and precisely cut, ensuring clean and crisp impressions every time. With their perfect density and smooth surface, our stamp blocks offer optimal carving control and enable you to create intricate designs with ease. They are compatible with various printing techniques, including rubber stamp carving, linocut, and block printing. Linoleum is an ideal printing rubber for print making materials as it is durable enough to preserve finer details while being easily cut, carved, or pressed. Resilient to bending and less prone to split. Effortlessly carve intricate patterns and textures with our Stamp Carving Tool - the ultimate carving tools for precision and creativity. The ergonomic handle offers a comfortable grip. Included spare blades provide smooth cuts so you can bring your designs to life with exceptional detail. Our Linocut kit is built with components that are user-friendly and suitable for beginners and experts alike. The smooth surfaces of the linoleum rubber carving block and ergonomic handles of the cutters ensure a smooth crafting experience. Whether you're creating custom stamps, carving linocut projects, or simply exploring block printing, our bundle has got you covered. Inspire creativity in a budding artist with this thoughtful gift or utilize our stamp kit to make your own! Carve intricate designs, experiment with different techniques, and bring your ideas to life with this exceptional marriage of creativity and craftsmanship.
Premium Linoleum Block Printing Kit - Each linoleum stamp block is designed to balance pliability and sturdiness for an ideal stamp pad medium. Withstands repeated printing presses and holds ink well.
Printmaking Linoleum - Our linoleum blocks for printmaking are flexible and durable. Able to withstand repeated bending and not crumble when carved. Old, stiffened linoleum can be softened with heat.
Dependable Linocut Tools - Our handheld linoleum knife tool is designed with convenience in mind. The ergonomic handle and metal chuck adapter seamlessly enable switching out the included blades.
More than Rubber Stamp Carving Tools - The included stamp maker cutting tool is suited for a variety of materials: Rubber blocks, Linoleum and rubber stamps, styrofoam, etc.
Make Your Mark - Chip away at a new project with our stamp carving kit. Available with 3, 6, or 12 Linocut Blocks. See our other listings for the option to include a rubber roller brayer for crafting.