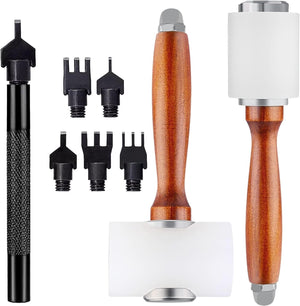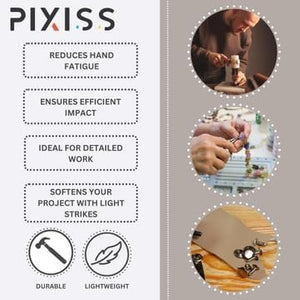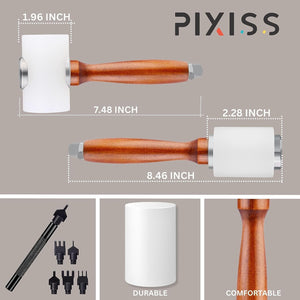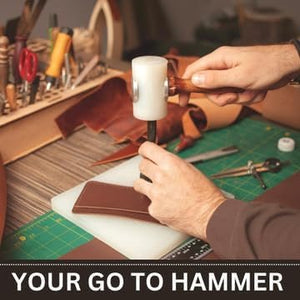 First up is the Pixiss Leather Hole Punch Tool, a game-changer for your leather tooling. With its ergonomic design and exceptional precision, the leather belt hole puncher tool allows you to accurately stamp leather holes for belts, stitching, handbags and a variety of leather crafts. No more struggling with an unwieldy leather cutting tool or messy results. This punch pen delivers clean and professional results with ease. Complimenting the belt hole punch is the Pixiss Leather Punch Set. Comes with 39 different metal bits/tips. Create unique designs, craft intricate patterns, and bring your vision to life with the leather stamps hollow punch set. Repair shoes, bags, and more with this set of leather stitching punch. The included Nylon Hammer completes our Leathercraft Accessories Kit. A versatile and indispensable tool, it provides precise strikes without inadvertently damaging your crafting medium or embellishments. Crafted with meticulous attention to detail, its nylon head ensures efficient impact while preserving the integrity of your projects. Experience the perfect balance of power and control as you create professional-grade leather goods. Crafted for durability and longevity, these tools are built to withstand the rigors of leatherworking. The Nylon Hammer features a sturdy handle for a comfortable grip, minimizing hand fatigue during extended use. The Punch Pen's high-quality construction ensures reliable performance for countless projects, making it a trusted companion on your crafting journey. Discover the limitless possibilities of leatherworking with this comprehensive bundle. From creating personalized belts and accessories to intricate stitching and leather crafts, our leather craft kits empower you to bring your creative visions to life. Whether you're a DIY Hobbyist or Seasoned Pro this bundle is designed to meet your every need. So invest in the best and set yourself up to embark on your craft adventure
Belt Hole Puncher for Leather - Easily create clean holes with our Leather Punch Tool. No more struggling with old-fashioned leather working tools! The hole punch set comes with 39 assorted bits.
Pixiss Precision Punch Pen - With our kit of 39 small hole punch bits, you can arm your leather punch tool for belts and much more. With our included Nylon Punch Pen Hammer, add designs with ease!
Leather Crafting Tools - Our mallet hammer makes an excellent addition to any leather stitching kit. Soften your craft medium or spread coloration with light strikes.
Powerfully Versatile Hammer - Precise strikes without damaging leather. Ideal with leather tools, but serves well as a jewelry hammer.
Nylon Leather Mallet - Add some precision to your leathercraft supplies. Shape, and stamp designs or buttons with ease! The non-metal head helps prevent unintended damage to your hardware.
Love Your Leathercraft Tools - Complete your leather craft tools with these essential leather working tools and accessories. Perfect for beginners and experts alike.