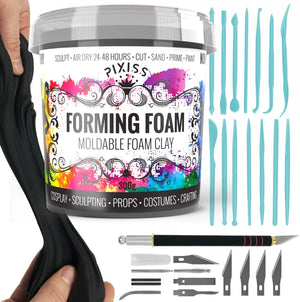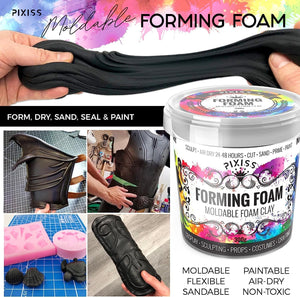 Moldable Foam Clay of Your Dreams - Sculpt intricate details with ease and maintain shape effortlessly. Enjoy the ultimate creative freedom to bring your vision to life. Unleash your artistic genius!
Lightweight and Durable - Our foam clay is incredibly lightweight, making it perfect for costumes, props, and crafts. It's surprisingly durable, ensuring your creations withstand the test of time. No compromises on quality or convenience!
Easy to Use, Mess-Free Fun - With our foam clay kit, crafting becomes a breeze. No mess, no fuss. With our included Sculpting Toolkit, simply mold, shape, and let your imagination run wild. It's the ultimate stress-reliever for both beginners and experienced artists. ADD TO CART now.
Vibrant Color Palette - Choose from a stunning range of vibrant colors to make your projects pop. From bold and striking to soft and subtle, our foam clay offers endless possibilities to express your creativity. Elevate your artistry with a spectrum of colors that inspire!
Rapid Drying, No Waiting Around - Experience the thrill of seeing your creations come to life quickly. Our foam clay dries rapidly, reducing waiting time and allowing you to complete projects faster. Say goodbye to long drying times and hello to instant gratification!
Unmatched Versatility - Our foam clay is compatible with various materials, including EVA foam and silicone molds. Whether you're a cosplayer, prop maker, or artist, it seamlessly integrates into your creative process, expanding your possibilities like never before.
Premium Quality Guaranteed - Crafted with utmost care and precision, our foam clay delivers unrivaled quality. No compromises on performance or longevity. Trust in a product that meets the highest standards and unlocks your artistic potential. Transform your ideas into reality.