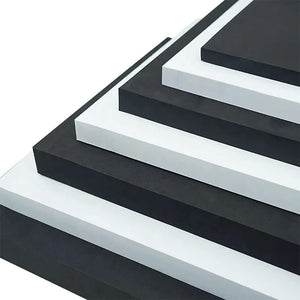 Crafted with precision and care, the high-density composition of our fibre craft foam ensures excellent structural integrity while remaining lightweight and easy to work with. Cut, shape, and mold our foam effortlessly to create intricate designs and detailed props for your cosplay projects. The flexibility of our foam allows you to achieve even the most challenging and elaborate designs with ease. Customization is key, and our cosplay EVA foam delivers on that front. You can paint, glue, and embellish the craft foam to match your vision perfectly. Transform it into a foam cosplay, stunning costumes, detailed armor, or eye-catching crafts that will turn heads at conventions. The foam's smooth, non-scraping surface and high density make the ideal foundation for your creative pursuits. Cut into EVA foam tiles, foam squares, a foam mat or foam craft sheets for a wide array of practical purposes. Use it as a foam pad to create a comfortable and safe environment. Protect fragile items during transportation by using the foam sheets for packing. Unlock your creativity, explore new horizons, and join the passionate cosplayers and crafters who trust our Craft Foam Roll for their projects and add to your cart NOW EVA, or ethylene vinyl acetate foam, is lightweight, has a smooth surface, durably maintains rigidity while resisting deformation, and can be easily cut to desired shape. Thanks to these properties, it is perfect for: Craft Foam Cosplay -Ideal for forming with higher elasticity than polyethylene foam -Closed-cell structure provides higher resistance to repeated deformation -Non-absorbent due to the closed-cell structure Sports and Physical Rehabilitation -Therapeutic insoles, shoe making components -Mat for martial arts (Muay Thai, Karate, Taekwondo, Judo, Wrestling, BJJ, MMA) -Foam Rollers -life belts, swimming boards, Kayak seats, boat mats and pool accessories
Versatile Craft - Perfect for crafting and costume making. Get creative with our high-density black EVA Foam for crafts. Cut into foam sheets for padding your environment, packing items, and more.
Easy to Cut and Shape - Effortlessly create intricate designs with our flexible EVA Foam. Cut into thin foam sheets for use as packing foam sheets, foam pads for floor, cosplay foam sheets, etc.
Trusted by Cosplayers - Join the cosplayers who rely on our top-notch craft foam. Dense yet lightweight. Easy to cut and shape while maintaining durability. Takes to glue and paint flawlessly.
Professional-Grade Quality - EVAs formula results in a closed-cell, high-density structure that ensures non-absorbent properties, durability, and structural integrity for your projects.
Beyond Craft Mediums - Due to its smooth, non-scraping surface and shock dampening EVA foam sheets are ideal for use in mats from the weight room to the dojo. Pursue your passion with peace of mind.