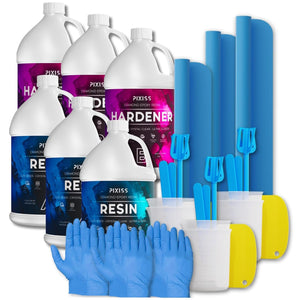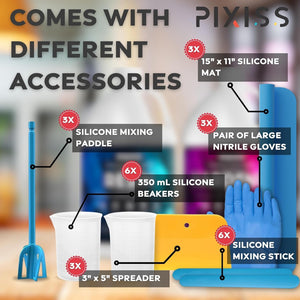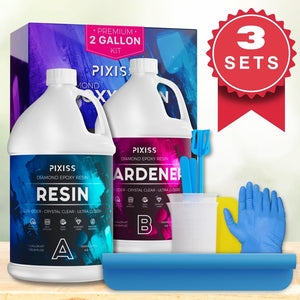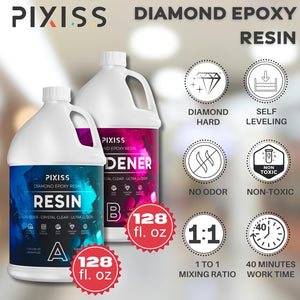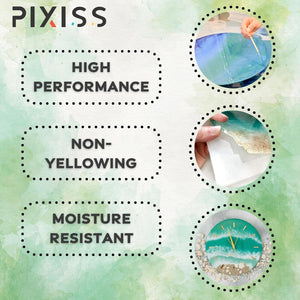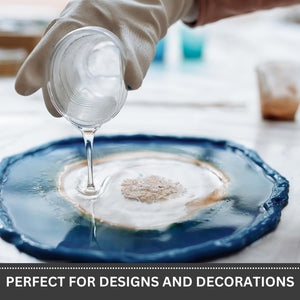 Our 6 gallon epoxy resin is formulated to offer a smooth and even finish, while the high gloss adds a stunning brilliance to your artwork. Say goodbye to yellowing over time with our anti-yellow formula, providing you with durable and long-lasting projects that will stand the test of time. Crafted with precision, our fast cure epoxy resin formula ensures clear, bubble-free results every time. Watch in awe as our casting resin transforms into a brilliant, glass-like finish that enhances the beauty of your creations. Whether you're in need of an outdoor epoxy resin, clear epoxy resin for wood or tumbler epoxy, our epoxy clear coat delivers unmatched clarity and depth. Let your imagination run wild with Pixiss Craft Resin. It's perfect for a wide range of resin products and projects. This includes: epoxy tables, resin jewelry, coasters, ashtrays, countertops, and more pour epoxy crafts Whether you're a passionate artist or simply looking to try a new hobby, our resin kits are here to help you unlock your creative potential. It includes everything you need to get started on your resin crafting journey. With a unique step-by-step guide, silicone mixing sticks, gloves, a silicone mixing paddle, a spreader, a silicone mat, and silicone beakers with measurement marks. Easy Mix 1:1 Ratio - Say goodbye to complicated measurements and calculations. Our Pixiss Epoxy Resin 6 Gallon Kit makes it incredibly easy for you. Simply mix equal parts A and B for 3-5 minutes, and you're ready to create! With a 30-minute work time and a 24-hour cure time, you'll have ample time to bring your vision to life without feeling rushed. Note: Be sure to refer to the included comprehensive instruction manual for proper handling and safety precautions.
Professional Grade Craft Resin - Achieve stunning results with Clear Resin Epoxy. Perfect resin for jewelry making, epoxy table casting and resin art. Low odor and non-toxic after curing.
Epoxy Resin Supplies - Get everything you need with our resin epoxy kit. Starter guide, mixing sticks, gloves, spreader, mat, and silicone mixing cups for epoxy resin with graduated measurements.
Easy 1:1 Mix Ratio - Pixiss Crystal Clear Epoxy Resin for Crafts is beginner-friendly. Simply mix equal parts A and B of our 6 gal kit for glossy, durable finishes. 30-minute work time, 24-hour cure.
Beautiful, Bubble-Free Finish - Enjoy a flawless, glossy finish on your projects. our penetrating epoxy resin is formulated to reduce bubbles and deliver exceptional clarity.
Anti-Yellow Formula - Preserve the vibrancy of your resin crafts. Our anti-yellowing properties ensure long-lasting, durable projects. Applied in/as: Epoxy for tumblers, jewelry making, coasters, etc
Beginner-Friendly Excellence - For The Knowledgeable or Novice, our comprehensive guide and art resin make it easy for beginners to create stunning crafts.