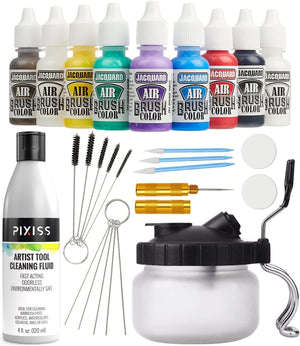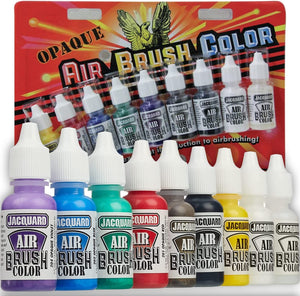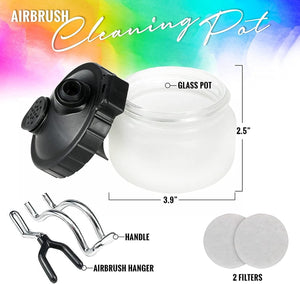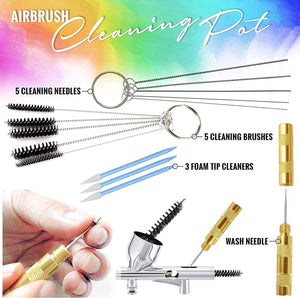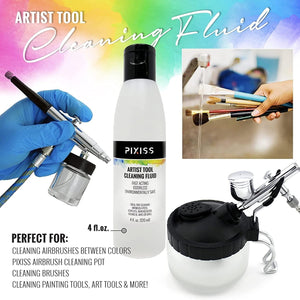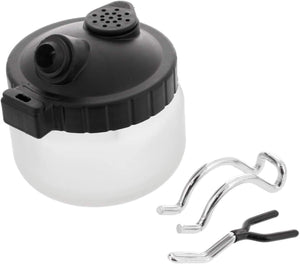 Enhance your Air Brush Painting Set with the Pixiss Cleaning Fluid, Airbrush Pot, and Jacquard Exciter Pack!
Upgrade your artistic journey with the Jacquard Exciter Pack - a set of pre-mixed, vibrant airbrush paint colors that save you time and deliver professional results on fabric, plastic, and models. From airbrushing model cars, to customizing sneakers, this bundle caters to all your crafting and artistic projects.
Experience the hassle-free airbrush cleaner from Pixiss. Our Airbrush Cleaning Pot is a multifunctional paint brush cleaner rinse cup designed to securely hold, soak, and clean your airbrush or paint brushes that keeps your work area clean and ready for painting. Included are 6 cleaning needles, 5 cleaning brushes, and 2 replaceable filters.
Use with Pixiss' Artist Tool Cleaning Fluid for an ideal airbrush cleaning solution. Works with oil, acrylic, or water-based paint and ensures your airbrush supplies stay in top-notch condition, removing paint residues effortlessly.
Jacquard's high-quality acrylic paint kit is perfect for various surfaces, providing durable and eye-catching colors. With this pre-mixed, ready to use airbrush paint set you can airbrush paint shoes, nails, fabrics or use as model paint.
Whether you're an experienced artist or a beginner looking to complete an airbrush paint kit, Pixiss and Jacquard are here to deliver the finest airbrushing artist supplies.
The Pixiss Airbrush Pot, Cleaning Fluid, and Jacquard Exciter Pack make a thoughtful gift for artists of all levels. Embrace the joy of airbrushing with the perfect bundle for crafting, painting, and artistic expressions.
Order now and elevate your airbrush painting supplies with thoughtful bundle designed to provide a seamless airbrushing experience.
8 Ready-to-Use Colors - The Opaque Exciter Pack from Jacquard includes 8 half ounce acrylic paints for airbrushing on a multitude of surfaces. Includes non-pigmented Airbrush Clear Extender Medium
Jacquard Air Brush Paint - Ideal for airbrushing, model customization, fabric design, nail art, body painting, pottery, shoe design, stage productions, sculptures, greeting cards, and more.
Artist Tool Cleaning Fluid - Pixiss provides a powerful paint brush cleaner and preserver that easily removes paint residues and maints your airbrush equipment.
Effortless Airbrush Cleaning Kit - Includes 5 cleaning needles, 5 cleaning brushes, 1 wash needle, and 2 extra filters, ensuring thorough and convenient cleaning for your airbrushing tools.
Clean With Precision - Fits most airbrush models and brands, including Master, Iwata, Paasche, and more, serving as both a cleaning station and a practical airbrush or paint brush holder.
Gifts for Artists - Complete an airbrush set with a gift of Pixiss' art and painting supplies and Jacquard's airbrush paint. This bundle is built to encourage and inspire artists of any skill level.