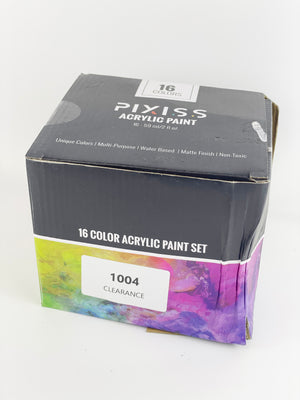 Pixiss 16pk 2oz. Each Acrylic Paint Set (Clearance Item 1004)
Damaged Box.
Disclaimer: Damaged Packaging, Fully Functional Products

Please note that while the product you are purchasing is fully operational and guaranteed
to function as intended, the packaging may exhibit some form of damage.
This could include but is not limited to scratches, dents, tears, or marks.
The stated condition does not affect the quality, performance, or utility of the product itself.
This item is part of our effort to reduce waste by selling products with damaged packaging that
might otherwise be discarded, despite the product itself being in perfect working condition.

Should you encounter any issues related to the functionality of the product,
please contact our customer service team, who will be more than happy to assist you.