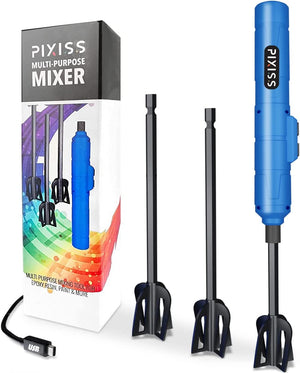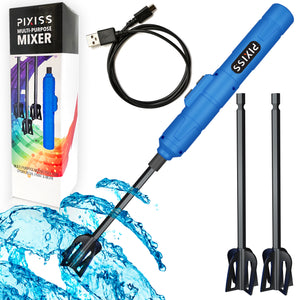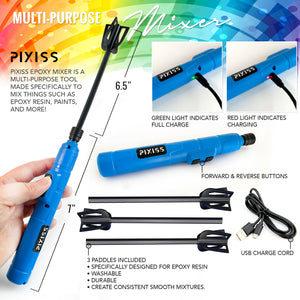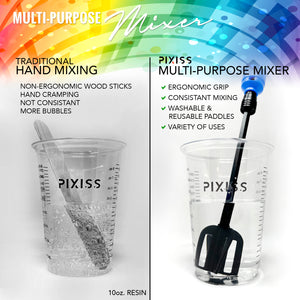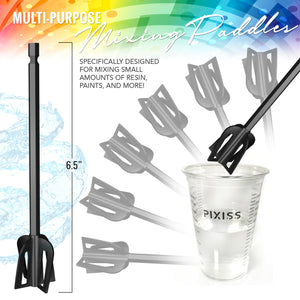 PIXISS Multi-Purpose Mixer is rechargeable and comes

with 3 mixing paddles.

PIXISS Multi-Purpose Mixer

 is made specifically to mix a variety of mediums such as epoxy resin, paints, and more!

Reliable - Both the paddles and mixer have been thoroughly tested. 

Rechargeable Battery -

PIXISS Multi-Purpose Mixer

comes with a micro USB charging cable allowing easy quick charging for hassle-free usage.

Reusable Paddles - Includes 3 reusable high-quality mixing paddles. These mixing paddles are washable and are excellent at producing consistent, smooth mixtures. Paddles are easily swapped out with ease using the tightening chuck. No extra tools are needed.

Wide Variety of Uses - Along with our Pixiss mixing cups,

PIXISS Multi-Purpose Mixer 

functions as a mixing tool for more than just resin. It can also be used for paints, 2 part liquid silicone, and other various projects that need a moderate-speed electronic mixer. Multiple paddles allow for multiple uses.
User friendly - No more sore hands & wrists mixing with wooden sticks. Let the 

PIXISS Multi-Purpose Mixer do all the work.