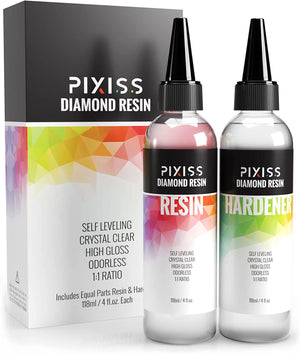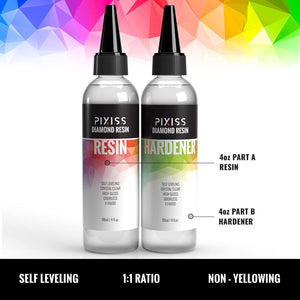 PIXISS Diamond Resin is crystal clear and cures with a high gloss finish. Non-toxic when cured, low odor, and self-leveling. With a temperature resistance of 150°C/300°F. PIXISS Diamond Resin has anti-yellowing properties making it the artist's choice for art projects, including tumblers, cutting boards, coasters, countertops, bartops resin art, resin jewelry, acrylic pouring, and more. EASY MIX 1:1 RATIO - Mix equal parts A Resin and B Hardener for 3-5 minutes. 30 minutes of work time. 24 hour cure time.
This 8oz. set includes:
4 fl. oz. Part A Resin and 4 fl. oz. Part B Hardener.
FAQs
Is PIXISS Diamond Resin Food Safe?
Once the epoxy has cured, it becomes safe, per FDA code 21CFR175.300. Which states "Resinous and polymeric coatings may be safely used as the food-contact surface of articles intended for use in producing, manufacturing, packing, processing, preparing, treating, packaging, transporting, or holding food" and can be used as a "functional barrier between the food and the substrate" and "intended for repeated food-contact and use."
Should I Use PPE While Working With PIXISS Diamond Resin?
You should take precautions when working with ANY resin. We recommend wearing gloves and working in a well-ventilated area, or wearing a respirator. 
Is PIXISS Diamond Resin BPA Free?
Yes, PIXISS Diamond Resin is BPA-free and contains no VOCs.
Can I Tint PIXISS Diamond Resin?
Yes, PIXISS Diamond Resin can be tinted with mica powders and other pigments. However, we recommend not adding more than 5% of the total volume to the resin and hardener so that it cures properly.
What Is The Heat Resistance Of PIXISS Diamond Resin?
The maximum temperature that cured PIXISS resin can tolerate is 300ºF/150ºC. However, the resin could become soft and flexible at high temperatures. Therefore, we recommend at a max temp of 120ºF/50ºC.
Why Did My Resin Not Cure Correctly?
There can be multiple reasons why resin may cure soft, lumpy, uneven, or with bubbles. These mainly have to do with the room temperature, accurate measuring, and the method of mixing resin and hardener. Make sure your room temperature is between 65º-75ºF. Ensure your workspace stays stable at room temperature for the first 24 hours of curing. Make sure your measurements for part A (resin) and part B (hardener) are accurate and have a 1:1 ratio. Finally, make sure you mix equal parts of the resin and hardener for at least 3-5 minutes in a slow circular motion.
How Do I Prevent Bubbles?
Mixing equal parts of resin and hardener slowly will limit bubbles. Also, make sure to pour your mixed hardener and resin slowly onto your surface to limit bubbles. If there are any bubbles, they often float to the top and can be eliminated using a torch or heat tool. Caution, too much heat from a heat tool may cause pitting or the resin to cure unevenly.