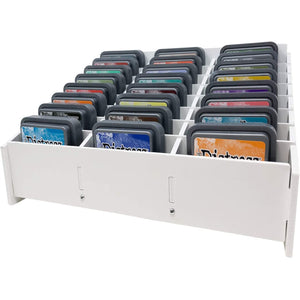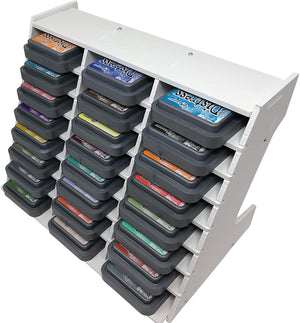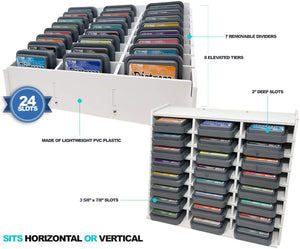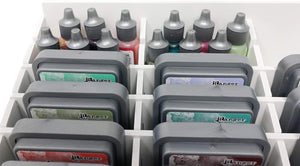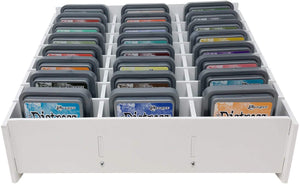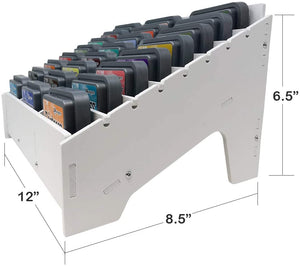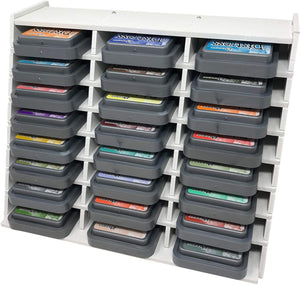 Ink Pad Storage For 24 Ink Pads - The Pixiss Ink Pad Storage Organizer holds 24 ink pads.  Compatible with Ranger, Stampin Up and other popular brands. Remove the dividers to hold reinkers and use this as an organizer and storage for all of your craft products. This is a very flexible craft organizer for any artist.
Great For Distress Oxide Ink Pads!
Elevated Stamp Pad Storage - Each tier of the Pixiss ink pad storage organizer is elevated so you can easily see all of your ink pads and colors.
Ink Pad Holder For Horizontal or Vertical Display - The Pixiss Stamp Pad Holder stand sits horizontal or vertical depending on your preference.
Craft Organizer Stand - Use the Pixiss craft organizer stand to store and display other art products along with your ink pads. Size: 12" x 8.5" x 6.5". Comes unassembled. Screws and mini screwdriver included.
Customizable Ink Pad Storage - Paint the Pixiss stamp pad and craft storage organizer to fit your style. Made of lightweight PVC plastic.