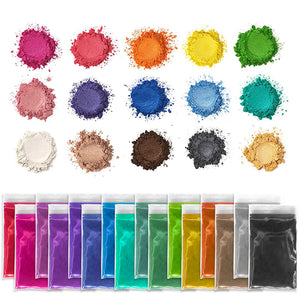 Pixiss Epoxy Resin Dye, Mica Powder, 15 Powdered Pigments Set, Soap Dye, Hand Soap Making Supplies, Eyeshadow and Lips Makeup Dye, Slime Pigment
Mica Shimmering Powder: Mica powder brings a beautiful shimmering and pearlescent look to your art projects.
Various Applications: Mica powder works with a variety of different things. Use it with resin projects, lipsticks, soaps, or makeup!
15 Assorted Colors: Our bundle includes 15 unique colors, giving you tons of different color options for whatever you're creating!
Epoxy Resin Pigment: Mica powder works perfectly with epoxy resin, allowing you to color and tint your resin and even give it a stunning shimmering effect.
5 Grams: Our mica bags each contain 5g of powder, so you will have more than enough for multiple projects.